BuildCraftia » Forum
Hey,

Straight to the point, shall we?

Please all welcome our newest Moderators: __Alkaline__ and ItsLewisC. Congratulations! Thanks to all other applicants as well, we appreciate your effort.

We have also promoted two Moderators to Admin. Please congratulate FatherFan and MissRemmi for their milestone, as well!

Should you have any questions, please do not hesitate to ask us.
Hey, the weekend arrived really quickly.
We have decided to open the Moderator Applications for the summer of 2017. This time, we will be electing t
wo new Moderators
to strengthen our staff team.
Moderating the server is an honour, but at the end it should be enjoyable for both the staff member and the player. Being a staff members requires patience, dedication and enthusiasm. If you feel like you are the person we are looking for, you should most definitely apply for the position.
You can find the Summer 2017 Moderator Application forum here:
https://forum.bcsn.us/index.php?forums/summer-2017.89/
Please post your applications on the sub-forum by creating an application thread. I have already prepared an application format, and be warned, it is slightly modified from past formats.
Moderator applications will
close on Sunday, the 11th at 7PM BST.
The new elected staff Members will get announced either on Sunday or Monday.
Good luck, and may the odds be...
Hey everybody,
The 1.12 update for Minecraft has been released today! We are all eager to test out the new features and possibilities. All these new blocks, for example, give us builders a lot of room for creativity. Cannot wait to get to test these ones out!
We are working as hard as we can to update the server as soon as possible. Our current ETA is around
10 days from today, so around next weekend
. There might be changes to this, but we'll inform you about them. Both Leo and I are extremely busy in real life, but we'll do the best we can.
Usually with these new updates, there's some serious problems and the 1.XX.1 is released shortly after the main release. We are hoping they'll kill some bugs while we're still in 1.11.2
What's your favourite feature of this new update? Please tell us in the comments. Should you have questions, please do not hesitate to ask.
Have an awesome week in BuildCraftia!
P.S. If you didn't catch the news, staff applications are...
Hey,

Summer's here, and there is going to be an increased amount of players on the server. We are going to need more staff members to help us moderate. This is just a quick heads up that we are opening the staff applications soon! If you have been thinking about applying, now it's time to prepare!

If you have any questions about staff applications, please forward them to myself.
Hey, here's an update regarding the future of BuildCraftia. We had a lengthy conversation about the server's future yesterday and we want to share some of the thoughts with you.

The player count has been extremely low for a while now, mostly caused by the busy school year and some other odd events. We have our hopes up that the summer is going to boost our player count significantly when school's out. We have plans to try get more players joining the server, this includes heavy advertising in social media and some other, more secretive plans and actions.

Lately, we have also discussed the future of the minigames. The players who play minigames somewhat regularly is minimal compared to Creative and Survival, for example. At the moment, we do not see fit to focus our time to something that rarely gets used. The current minigames are functional and playable, even Paintball, which we have been beta testing. When we get the player base, and the interest for minigames, we can start...
Hey,
We have been working on the banner menu for some more, and we decided to add some more banners. There is a new "Flags" section with a few flags in.
Now we need your help getting our banner menu filled! More info can be found on thread provided below.
You can suggest your banners here:
https://forum.bcsn.us/index.php?threads/banner-suggestions.4354/
Please follow the banner suggesting format provided. Thanks for reading and happy suggesting!
Introducing the
Banner Menu
: a tool for getting great banners without the hassle of crafting. We want to provide you, the community, the best tools possible!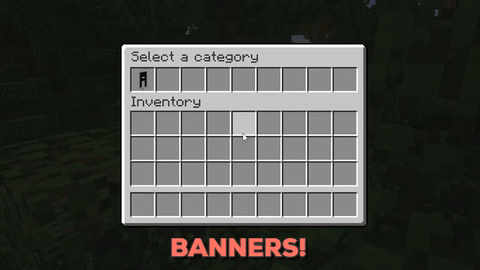 You can access this magnificent menu by running the /banners command on the Creative server. All players have access to this.
We only have the alphabet in the menu, and this is just the start of what we have planned for the Banner Menu, but we also need your help. We'll be creating a thread, where you can suggest your banners to be added to the banner menu. These will be neatly organized into sections, just like the
/heads
menu.
If you ideas, suggestions, please forward them to us!
Thanks for reading, and have fun time creating in BuildCraftia!
Hey,
There are a lot of awesome builds on the server, and we want to show them off to the world! The most popular place to post your builds is PlanetMinecraft, of course.
Our penguin servants have received some information that there is a new feature on PlanetMinecraft which lets you tag the server you have the build on. You can also tell viewers how to access your build. This will make it easier for us to spot your builds, and easier for viewers to come check your build on our server. Maybe some of them are willing to give you some help building!
We want to encourage you to post your builds on PlanetMinecraft for us to see! We will be sharing the best builds in our social media (Facebook, Twitter and Instagram). Your PMC submission will be linked as well!
Here's how to add BuildCraftia as the...
Hey,
Thanks to your feedback in the Destroy The Core map survey, we were able to make our maps better! There has been some changes, so hear me out!
New Maps
Two new maps are introduced in this update.
Ye Olden Days by jeremy333
Sawmill by knewnie and yvagary
Edited Maps
Some of the maps were edited to enhance the gameplay.
Avalanche
Avalanche has received a new look but the main features are still in place. The map is now more lush with trees and bushes. The roads also received an ice cover to make your journey around the map faster. Spawns and the mountain also received a visual update.
Columbia
The cores were way too close to the spawn, so they were moved higher up.
The spawns received a visual update....
Hey,

Today we are bringing you somewhat sad news. You may have noticed a decrease in development speed lately. Our developer, Leo, and myself are really busy in real life and maintaining and developing the server has gotten harder and harder for us. It feels like there is no more free time after our jobs and real life tasks.

We were thinking about shutting down the server, but that didn't seem like an option. We also thought about bringing back Arcadia to help make development faster and more organized, but that didn't seem right either. Not after everything that did to us. We love the community and the dedication our players are putting into the server. We have been thinking about solutions to this problem and have finally come up with a solution.

As of this date, we have decided to drop of Paintball from our list of development. This was a really hard decision for us two to make. We simply do not have time to develop another minigame because everything else is taking so much...